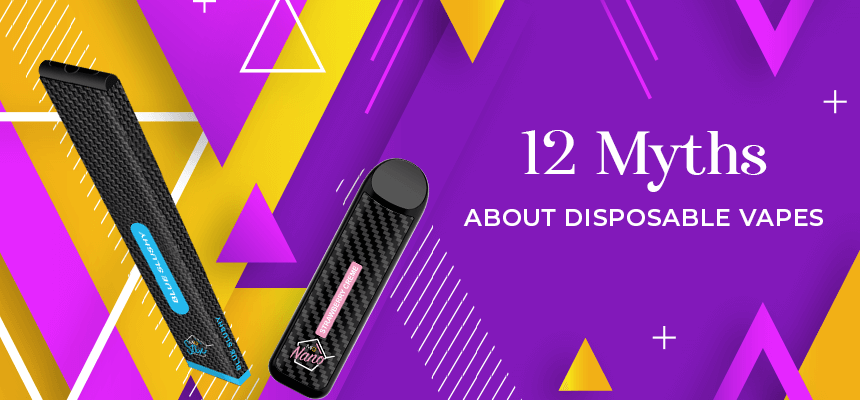 12 Myths About Disposable Vapes
Disposable vape pens are similar to e-cigarettes but usually thin, small, and more distinct. These vapes are composed of a tank, also described as the chamber containing the extract or the juice that gets vaporized during the combustion. Disposable vape pens have an atomizer and a heating element that is similar to that found in the e-cigarette, but only smaller, which vaporizes the solution. The innovations in harm reduction devices in recent years have produced disposable vaping products that are demonstrably less harmful than traditional tobacco cigarettes.
History of Disposable Vape Pens:
Vaporizers, which are also called e-cigarettes, are comparatively new products in the Tobacco industry. E-cigarettes first appeared in 2003, but it was not until several years ago that a significant portion of the population started to use e-cigarettes. It is an advanced electronic device that heats a flavored extract that contains nicotine. As the liquid is heated, the extract evaporates and efficiently releases nicotine into the user's body. Vaporizers, e-cigarettes, and vapes are indistinguishable terms and are used interchangeably everywhere in the trade.
Different from traditional cigarettes that practice combustion to deliver nicotine, disposable vapes use small lithium-ion batteries that send electricity to the atomizer that converts the nicotine solution from a liquid state to a gas state. In this process, the change in the physical state takes place; the vapor that originates from disposable vapes consists of little to no harmful gases. The principal intention of this practice called vaping is to help tobacco smokers quit because there is no doubt that smoking tobacco causes cancer, along with many other illnesses. As per the National Cancer Institute, "Tobacco use is a leading cause of cancer and death from cancer." Use and the physical features achieved with disposable vape, according to the studies, are held safer than smoking or any other conventional use of tobacco usage.
Advantages of Picking a Disposable Vape Pen:
Disposable vape pens are easy to use and convenient to carry around. They look practically indistinguishable to electronic cigarettes. A disposable vape pen works on the application of heat that converts the e-juice from a liquid state into a gas creating mass clouds of vapor. Also, if you are looking for a trustworthy and useful option to experience safe smoking, there are many reasons to give a thought to disposable vape pens. A disposable vape pen also permits to vaporize dry herbs, concentrated oils, or wax. These alternatives can be a successful attempt to halt traditional smoking cigarettes, which has been proven by multiple studies. E-liquid oil vape pens are accessible with or without nicotine concentration, depending on your requirements. Even dry herbs or wax vape pens are also available. On the other hand, on the off chance that you might want to attempt every one of the three sorts, you can get a hold of a three-in-one blend display as well. With disposable vapes, one can experience equal or better satisfaction than cigarettes, which will also turn out to be a more cost-effective alternative for you.
The early 2000s have remodeled many people's smoking experience with the introduction of electronic cigarettes and vaping devices. Similar to any unique idea that grew rapidly into fame, many facts, strange myths, and assumptions have surfaced throughout the years, which may have caused much confusion and led users to fear for their use of disposable vape pens. When disposable vapes skyrocketed in popularity, the misinformation and speculation regarding the product have only increased over time. As associated with almost every product, myths and urban legends are surrounding disposable vapes, and the only real way to distinguish what's right and what is not is by becoming as well-informed as possible regarding disposable vape.
If you still feel hesitant about disposable vapes and would like to have a little more clarification about the device, here are twelve common myths busted along with the reliable factual information necessary to help you discern between truth and pure conjecture.
Myth 1: Disposable Vapes contain nicotine too, so they're no better than conventional cigarettes.
Truth:  This misconception really can not be busted definitively without proven scientific studies. While nicotine is known to be addictive, several studies have revealed that it has very insignificant effects on health. Tobacco cigarettes are far more harmful due to the various additives and chemicals, which include tar, arsenic, lead, carbon monoxide, etc. that are found in tobacco smoke. Since disposable vapes are necessarily a water-based vapor and it doesn't contain all of the dangerous substances found in conventional tobacco smoke. Here are five facts that need to be crack this myth:
(i) Nicotine levels: E-juices or e-liquids are classified by the concentration of nicotine in them, which makes it easy to identify exactly how much nicotine is held in each bottle of vape liquid. Whereas cigarettes have diverging nicotine levels making it much difficult to understand exactly how much nicotine one is exposed to while smoking. Because of these differing nicotine levels, it is tough to say whether more or less nicotine is consumed during vaping. Nevertheless, what is known is how much nicotine is used in your vape juice, while you will never know how much nicotine contained inside of a single cigarette.
(ii) Puff Span: For both vapers and smokers, nicotine absorption is highly dependent upon how long the individual pulls in the smoke or vapor. The longer the pull, the more the quantity of nicotine will be absorbed. Without considering this part, it is impossible to compare the level of nicotine absorption during smoking versus a session of vaping.
(iii) Frequency of Puffs: Also, the way that vapers vape is often different from the way that smokers smoke. Smokers usually take long pulls with more time between each. Vapers, on the other hand, typically take small puffs, but more frequently. The number of puffs during a session is critical to running a controlled test that compares nicotine absorption levels.
(iv) The Intensity of Vape: Some people like small, low-wattage devices, and some people love high-wattage sub-ohm vaping. The amount of vape delivered on each puff also plays a significant role in how much nicotine is provided and thus absorbed in the body.
(v) Individual Absorption Rate: As we all understand, people are different, and their bodies work differently. Even in the same controlled measures, one person may absorb nicotine differently than another person. Bodyweight, height, gender – many factors can play a role in how an individual will absorb nicotine.
Myth 2: Disposable Vapes are dangerous because they can explode in your face.
Truth: When a bottle of lighter fluid is thrown onto a fireplace, it explodes. Anybody in their senses won't do this because they know better to use a device in a manner that is instructed on its labeling. Many people try to alter the e-juice and use batteries that are not intended for a particular model of vape products. Also, in the case of disposable vapes, they are easy to use and hassle-free. A user can enjoy it until the device runs out dry and is disposed of easily.
When buying a disposable vape, it is essential to buy a high-quality device and avoid knock-offs, which are usually made with inferior parts. Buying a knock-off e-cigarette can be one of the dangers of vapor smoking. Purchase your disposable vapes from a reputable company and follow those simple guidelines, you won't have to worry about a disposable vape exploding in your face.
Myth 3: Disposable Vapes will be outlawed soon.
Truth: Solely stated, this is nothing less than a fallacy. There is no pending legislation on the extent to ban disposable vapes or any other vaping product. Few business enterprises have attempted to ban the use of disposable vapes on their premises, but there are no current or pending legal laws on the record to this end.
Myth 4: Disposable Vapes are unsafe because they do not enlist any ingredients.
Truth: If you're purchasing a disposable vape from a company that does not disclose its ingredients, run the other way. All reputable disposable vape companies disclose each of the ingredients found in their e-juices. You can then do your research on each of the e-juice ingredients to understand what they are and how they work to make sure that you are always aware of what is in the vapor that you are inhaling.
Myth 5: Disposable Vapes contain dangerous chemicals, just like traditional cigarettes.
Truth: Vape juice, also known as e-liquid, is the component that is being used in a disposable vape device, which is heated to produce the vapors. Even with simplistic composition, e-liquids are surrounded by misconceptions. For instance, many reports are drifting around social media platforms that seem to blame e-juices to a rare condition called Popcorn Lung. This alleged link between the two is falsely based upon a study where 51 out of the many thousands of e-liquids were tested, and it was found that some of the juices may have contained diacetyl. This chemical was once used in food production factories to give foods a buttery flavor, just like popcorn. The truth is that the broad majority of e-juice brands do not use diacetyl in the making of their e-liquids. Millions of packs of e-liquid are sold on an everyday basis, and to date, there has never been a single cause of even the mildest situation of popcorn lung that could be traced back to users caused due to vaping.
Usually, e-juices consist of only a few ingredients, such as propylene glycol, glycerin, water, nicotine, and flavors. The ratio of these ingredients varies from brand to brand, whereas most juices contain up to 90% propylene glycol and glycerin. In contrast, some e-liquids may contain no nicotine concentration in the liquid at all.
Myth 6: Disposable Vapes has been known to cause cancer.
Truth: No definitive scientific studies have been published that support this statement. Disposable Vapes contain no tobacco, which means that they also lack the over 7,000 different chemicals, 69 of which are carcinogenic and are present in traditional tobacco cigarette smoke. In 2015, a proficient report by Public Health England reasoned that vaping is around 95% safer than tobacco smoking. Nobody can say whether vaping is harmless on a long term basis. The long term effects of vaping are unexplained, but there is quite a bit of testimony that implies that it is at least much safer than smoking tobacco cigarettes. Cigarettes have been clearly linked to harmful long-term health effects, and unlike vaping, you won't find any evidence anywhere to suggest otherwise.
Myth 7: Disposable Vapes cost more than traditional cigarettes.
Truth: This is another common misconception regarding disposable vapes that shows when you consider the amount of use you get out of a disposable vape versus traditional cigarettes. To be honest, some vape brands can be pricey, but the majority of disposable vapes are competitively priced. Also, the expense a user will acquire, whether smoking or vaping, will be reliant upon their routine. A consumer who smokes five packs of cigarettes a day spends a lot more dollars than the average vaper. But a vaping enthusiast and collectors may buy higher-priced items more frequently and spend more than a chain smoker. Average disposable vape users; however, compared to the average chain smoker, typically expect to save money quite substantially when vaping.
Myth 8: Disposable Vapes companies are trying to get non-smokers to start vaping too.
Truth: Besides being a terrible waste of marketing bucks, this allegation is simply false. Disposable vapes have always been targeted to smokers who are looking for a hassle-free healthier option for traditional tobacco cigarettes. There are masses of people who have been able to get rid of their smoking habit by switching to disposable vapes, and the trend only looks to continue. Any smart e-cigarette company will pursue qualified leads first before going after a "cold market."
Myth 9: Disposable Vapes companies are trying to get non-smokers to start vaping too.
Truth: Besides being an outrageous waste of marketing bucks, this assertion is wrong. Disposable vapes have always been targeted to current smokers who are looking for a healthier and hassle-free alternative to conventional tobacco cigarettes. Millions of tobacco smokers have been able to get rid of their smoking habit by switching to disposable e-cigarettes, and the inclination only looks to continue. Any smart disposable e-cigarette brand will seek qualified leads first before going after a cold market.
Myth 10: People get more easily addicted to Disposable Vapes than traditional cigarettes.
Truth: The nicotine contained in disposable e-cigarettes is no more or less addictive than the nicotine in conventional cigarettes. Generally, nicotine is believed to be addictive. On the contrary, research reports on the addiction of nicotine were usually bound to its presence in tobacco cigarettes. As the combustion process in tobacco cigarettes produces a mass of chemicals, it is challenging to isolate nicotine as a single addictive factor. The truth is, right now, it can not be inferred whether nicotine is reliably addictive or not. However, numerous vapers have reported progress in reducing their nicotine vaping levels down to zero nicotine with time.
Myth 11: Anyone can buy Disposable Vapes and vape anywhere.
Truth: Not true. Because disposables contain nicotine, they are considered to be a "tobacco product," even though they contain no tobacco at all, and many disposable vapes come with zero nicotine. For this particular reason, they are not allowed to be sold to anyone under the age of 18 and even 19 in some states.
Even though vaping is much less speculative than smoking, it is not allowed everywhere to be used openly. Different countries, states, and cities have their vaping laws and restrictions. In some places, it is perfectly acceptable to vape in the public area, whereas in some countries, vaping is banned publicly or privately. It is crucial to know the local vaping laws before traveling with your vape device or vaping in public view.
Myth 12: Disposable Vapes companies try to target teenagers with colorful packaging and fun flavors.
Truth: If you look at this allegation from the vape company's point of view, it makes no sense at all. Why would a company target an audience that is not legally allowed to buy their products? Disposable vapes are targeted towards adult smokers who are looking for a hassle-free healthier alternative to tobacco cigarettes.
If you are a long-term tobacco smoker and have not been able to stop smoking using approved cessation methods, disposable vapes appear to be a safer and hassle-free alternative than continuing smoking harmful tobacco cigarettes. Make sure to keep yourself updated with correct information and stay away from the myths regarding disposable vapes so that you can make informed decisions that are not being influenced by inaccuracies or hearsays. To get a hold of disposable vapes, browse through the high-grade vape collection only at MiO Vapor. Each of our MiO Stix devices is manufactured to the highest standards with appealing aesthetics to provide you an enjoyable vaping experience.