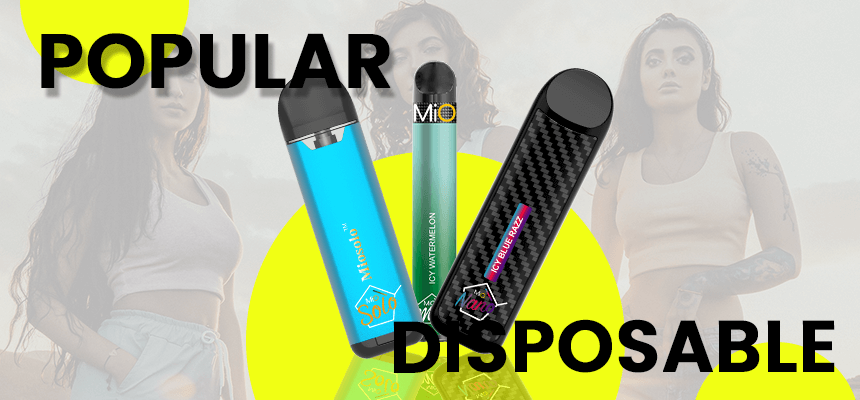 WHY ARE DISPOSABLE VAPES SO POPULAR?
Whenever you step out of the house, what is the most common thing you see apart from buildings, roads, trees, and vehicles? Yes, the answer is humans who are busy in their activities, either walking, running, gossiping, fighting, or enjoying. You might have seen some smoking or drinking too. And if you have noticed in the past few months, you have most likely seen them consuming disposable vape.
Disposable Vapes are for single-use
It has become popular among vapers these days. Its design is in such a way that you cannot use it later. It comes ready to vape and thrown away once consumed. Most devices need to be refilled, but these disposable vapes are different. It can only be used once. Unlike the refillable pod mods, disposable pods vaporizers possess two main characteristics. Neither can their batteries be recharged nor their pods can be refilled, and that's how it is named. Despite a significant disadvantage of its ability to be used once, these are becoming more popular than those rechargeable pods day by day and for a good reason that makes it worth buying. It doesn't require filling, cleaning, or any kind of maintenance. It's just like take a puff, take pleasure in, repeat till it gets exhausted, then throw and buy a new one.
Nowadays, cigarette popularity has declined, and vapes and e-cigarettes are taking their places. Both youngsters and elders use it. Smokers trying to get rid of smoking and the youngsters who are getting familiar with nicotine are the most common users of this. It comes in many types, like box mods, pens, pod systems, and disposable vapes.
It comes in a very different design than the traditional ones. It's thicker than usual, sometimes colorful, and often shaped like a personal vaporizer or highlighter pen.
It's All About How Disposable Vapes are used
These disposable vapes usually come packed in a sealed bag or a cardboard box with a pre-filled e-liquid and a fully charged built-in battery. It comes in a variety of shapes, sizes, and features. The most common type is a small, typical rectangular device, typically the finger's length with a 1-1.5 Ml e-liquid capacity, which looks more like a highlighter pen. For example, Ryse Bar contains an impressive 1.4 Ml capacity in a tiny device and delivers approx. 400 puffs. The e-liquid might be filled with either a freebase or the company might have used nicotine salts in the mix. The product gets automatically activated as soon as the user inhales from the mouthpiece and will generate nicotine-infused vapor. These tiny devices are incredibly versatile because it gives the same experience as a traditional cigarette. The number of puffs from these devices is the same as from a pack of a conventional cigarette.
How Disposable Vapes became popular suddenly?
How did they become so popular suddenly, despite some significant disadvantages? In January 2020, the U.S. Food and Drug Administration issued warning letters to ten companies, including Cool Clouds Distribution Inc., to remove their fruity-flavored disposable e-cigarettes and youth-appealing e-liquid products from the market based on the absence of valid premarket authorization. This act of FDA is the part of their action against illegally marketed tobacco products in the market. "The FDA continues to prioritize enforcement against e-cigarette products, specifically those most appealing and accessible to youth," said FDA Commissioner Stephen M. Hahn. "We are concerned about the popularity of these products among youth and want to make clear to all tobacco product manufacturers and retailers that, even during the on-going pandemic, all the marketplaces are under surveillance and will hold companies accountable if found guilty." This ban also prevented vape shop owners from selling fruity flavored refillable cartridges, including mango, pink lemonade, and strawberry.
The policy, which took effect from a month after, i.e., February, however, only allowed the sale of devices containing methanol and tobacco flavors. This flavors restriction was somehow not applied to disposable vaping products like Puff Bar. Therefore, tobacco flavored e-liquids faced no issue in the sale and were available widely. This impacted the people who primarily vaped sweet and fruity liquid because it was almost impossible to refill the device. However, many were okay with it considering tobacco-flavored e-liquids were still available. Since disposable vapes were hard to get caught by the law, they continued their sale across the country unless strictly prohibited by the state laws, a result of which many fruit and dessert-loving vapers started using disposable vapes. Consequently, their demand in the market is increasing day by day.
Why is Disposable Vape so popular – Some More Points!
Many disposable pod products feature nicotine salts in their reservoir because, in comparison, nicotine salts give more satisfaction in a single puff than freebase nicotine. The throat hit is also not as harsh as with traditional nicotine making it a long-lasting product as the user doesn't need to inhale from the device frequently. It comes in various fruity flavors such as watermelon, mint, lemonade, and mango e-liquid. Liquid concentrations in different devices may vary to make sure that all levels are satisfied by the product. Seeing the demands of people, customized products are also available in the market nowadays. Many new and exciting disposable vapes and devices such as disposable CBD vapes, hookah pens, and energy and vitamins inhalers have also broken into the market.
The popularity of disposable products is worth it due to many reasons. 
Available at low price
Everyone wants to have the best quality product while spending less money. To the surprise, disposable vapes are cheaper than traditional tobacco and will save your money. These disposable vapes are less expensive than non-disposable vapes since it is not reusable. Considering its long-term usage, it might be a bit expensive because each time they have to buy everything new from the battery to the circuit but is more beneficial for those not sure of using it. It would save their money for the experiment they were trying to do. Also, if you are not sure of how much nicotine you should consume, then instead of wasting money on a one-time vaporizer kit, disposable vapes can be a good option to know your consumption level of nicotine.
People tend to buy products that are easily accessible to them, so they don't have to work hard or spend much time on it. Considering this fact, they are designed in such a way that they are lightweight, and they don't require any e-juice refills. Additionally, since these are not rechargeable and have a single lifetime, there is no need to carry a battery and charging stuff, which reduces the hassle and can allow space for other things to carry with you. If you are a traveler or have to carry lots of stuff with you on a regular basis, then it is a boon for you as it will allow spaces in your bag for other gadgets to fit in.
As mentioned earlier, it is suitable for the one who is new to it. The freshers of this field who are not friendly with each part and its usage, it mitigates their problem of dealing with complicated setups of their devices. They can easily skip this assembling and setting up the parts since they don't require any. You can simply unbox it and start vaping. Once used, it is thrown away easily.
Available in multiple flavors
Since the ban, lots of popular flavors were prevented from being sold. However, these disposable vapes quickly escaped from the prohibition, which means you can enjoy many more flavors with these products than the traditional ones.
These products are also healthier methods for the one who wants to quit smoking. This mitigates the vapers' withdrawal health effect to the vapers in a much cheaper, accessible, and easier way.
Let's Bust Some Myths related to Disposable vapes…
Since it is popular among many people and its users are in large numbers, various kinds of views and opinions can be heard from multiple people. Some might be true, but some can also be wrong, which further spread among people and took the form of myths. It is essential to know a little bit about the myths so that we are aware of them. It has been heard claiming that disposable vapes are dangerous as they get exploded in your face. Until and unless anyone is altering the e-juice and not using the batteries in a prescribed manner, it is not a dangerous substance. There is also rumor about banning disposable vapes, but there is no information about any pending legislation about such banning. This is a wholly mistaken belief. Some say it is known to cause cancer, while no scientific study has proved this in any of their statements. And many more myths and rumors are prevailing in the community which needs to be curbed off. (to know more, click here).
There are always two aspects of everything, but more value is given to the side weighing more. Despite some disadvantages, the popularity of disposable vapes among vapers is enough to show its virtuous character.