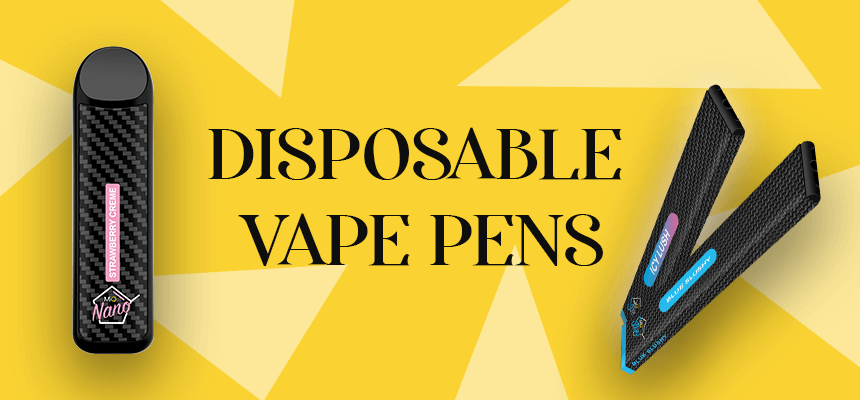 Everything you need to know about Disposable vape pens
A disposable vape pen is similar to an e-cigarette but generally smaller, thin, and more discrete. It comprises a tank, also referred to as a chamber that holds the extract/solution that will be vaporized. It also has an atomizer and a heating element that is similar to that found in e-cigarette only smaller, which vaporizes the extract.
Chemicals used in Disposable vape pens! 
Disposable vape pens are one-time use vapes. And to make them, some of the chemicals used include Acrolein, glycol, diacetyl, toxicant, crotonaldehyde, limonene, acetoin, and nicotine.
 Evolution of Disposable Vape Pens!
Vaporizers, also known as e-cigarettes, are relatively new products in the Tobacco industry. E-cigarettes first emerged in 2003, but it was not until several years ago that a significant portion of Americans started to use e-cigarettes. E-cigarettes are electronic devices that heat a flavored liquid that contains nicotine. As the fluid is heated, the solution evaporates and effectively delivers nicotine into the user's body. Vapes, vaporizers, and e-cigarettes are identical terms and are used interchangeably throughout the industry.
Unlike traditional cigarettes that use combustion to deliver nicotine, vapes use small lithium-ion batteries that send electricity to the atomizer that transforms the nicotine solution from a liquid state to a gas state. As a result of this change in physical state, the vapor from e-cigarettes consists of little to no harmful gases. The main objective of this practice called vaping is to help tobacco smokers quit because there is no doubt that smoking tobacco causes cancer. According to the National Cancer Institute, "Tobacco use is a leading cause of cancer and death from cancer" (Tobacco). Use and the physical features implemented with e-cigarettes, according to studies, are considered safer than smoking or any other conventional use of tobacco.
What is the take of Regulators?
The FDA (Food and drug administration) regulates many aspects of electronic nicotine delivery systems (ENDS). Some of these include regulations on labeling, advertising, packaging, vending, and distributing e-cigarette products. With the involvement of the FDA, consumers in America are safeguarded from potential dangers from buying e-cigarette products from unauthorized manufacturers and unqualified manufacturers in the vape industry.
The twenty-first century is a time when technological advancements are exceedingly overwhelming. And these technological advancements extend well into the e-cigarette industry. With today's standards of technology, vape manufacturers can incorporate many safety features that allow consumers to vape peacefully without the worry of explosions. There are two types of e-cigarettes in the market today, regulated and unregulated e-cigarettes. Unregulated e-cigarettes are the most dangerous types of e-cigarettes in the market. This type of e-cigarette is composed of three basic pieces:
the cylindrical metal body,
the atomizer that is attached on top of the body, and
a removable button that is usually located at the bottom of the device.
According to statistics provided by UC Davis health, "smoking causes an estimated 30 percent of fire deaths worldwide". As per the most recent data, the UK'S NHS has started to promote the sales of e-cigarettes in public hospitals, of all places, to encourage even more smokers to switch.As per the 2017 data, 39.5 percent of UK smokers switched to vaping to quit tobacco smoking. The legal age for buying vape pens is 18 in the USA.
E-cigarettes: Miracle or Menace, is a wonderfully done 2016 documentary on the topic of what tobacco and e-cigarettes do to your body and which is "safer." This documentary is hour long and available on Netflix as of this writing.
Top 4 Advantages while picking a Disposable vape pen for vaping:
Disposable vape pens are easy to utilize, notwithstanding for fledglings. More often than not, they simply have one and only catch that you push to warm material inside.
They have attentive outlines. They look practically indistinguishable to electronic cigarettes.
A disposable vape pen enables you to vaporize dry herbs, concentrated oils, or wax and can be a successful attempt to stop smoking cigarettes. E-fluid oil vape pens are accessible with or without nicotine mixes, depending on your individual needs. Dry herbs or wax vape pens are likewise accessible.
On the other hand, on the off chance that you might want to attempt every one of the three sorts, you can buy a 3-in-1 blend display.
Difference between a pre-filled cartridge and a disposable vape pen?
If you want to use a cartridge that is pre-filled with cannabis oil, you also need to buy a battery. The battery provides power for the atomizer, or heating element, in the cartridge. The atomizer is what turns the cannabis oil into vapor form. To activate these atomizers, you either push a button or simply inhale.
Pros of cartridge pens:
Batteries are reusable.
Some cartridges can be refilled and reused, though most are disposable.
Cons of cartridge pens:
Batteries require recharging after a certain amount of use.
The battery and cartridge should be cleaned periodically.
Things to be considered while buying your first disposable vape pen!
Just one or more – How long will you be vaping for? Whether you are a regular or occasional, there are no issues because you can just forget about charging any battery. But yes, if you are vaping all the time, it would be better if you carry an extra. It won't hurt, for sure!
Style – Disposable vape pens arrived in a substantial assortment of styles and hues so that you can choose something exceptional to you.
Estimate- while all vape pens are moderately little, some are longer than others and can hold more material.
Guarantee and Warranty- The higher the nature of the pen, the more extended the warranty will be.
Cost- There are alternatives to fit each financial plan.
How to use a disposable vape pen?
Well, that;s quite simple – It has a button. Put your mouth on the nozzle, hit the button and take it in! The button hits the chamber as you hold it down, so be clear to hold the button down as you are taking your hit.
Benefits of a disposable vape pen
A disposable vape pen converts the material from a solid or a liquid state into a gas by the application of heat. Although cannabis users have been changing over to vaping to evade the unsafe side-effects of burning.if you are looking for a safe and useful option to consume your medication, here are four reasons why you should consider vape pens:
Less harmful than smoking (as proven by multiple studies) 
Equal or better satisfaction than cigarettes
Overall more cost-effective
Convenient for carrying
Researches indicate that vaping poses only a small fraction of the risks of smoking and switching completely from smoking to vaping conveys substantial health benefits. E-cigarettes could be contributing to at least 20,000 successful smoking quits per year and many more. E-cigarette use is associated with improved quit success rates over the last year and an accelerated drop in smoking rates across the country. Vaping is an aid to smoking cessation, which has the potential to eliminate a large portion of the risk.
Pros of a disposable vape pen:
The battery doesn't require charging.
No cleaning or other maintenance is necessary.
They are cheaper than pre-filled cartridges.
Get the best disposable vape pens from MiO
MiO vapor offers the most elegant disposable vape pens that come pre-filled with flavors like strawberry, mint, and mojo, which will make you crave for more, just in the right way!
These disposable devices are ideal for transitioning smokers or heavy vapers on the go. So, if you are tired of charging your mods every now and then and don't want to keep looking for e-liquids to fill, simply grab a MiO stix and let the dense clouds take over!