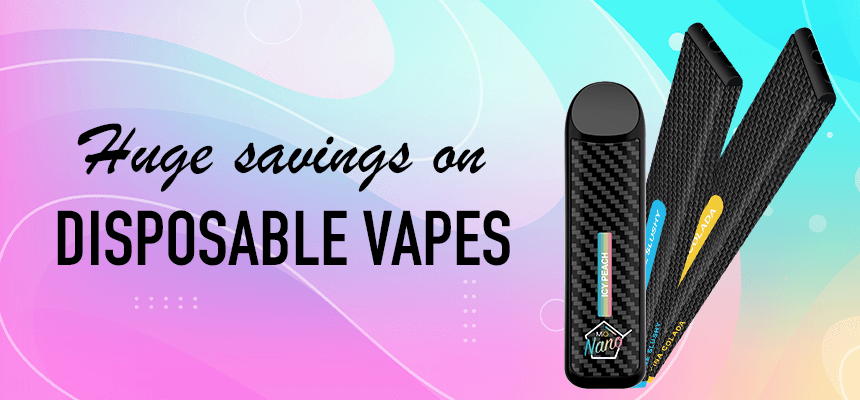 Huge savings on Disposable vapes
At MiO Vapors, since our inception, we have manufactured thousands of disposable salt nicotine e-cigarettes while catering to about 127,000 unique customers with our online sales and through our global distribution network. After purchasing our products, just like all our customers, you will proudly say it is 'mine.' Our extensive lineup of MiO stix and MiO Nano are full of sleek & classy products that will suit your stylish lifestyle while resting in your pocket.
We have a total of 27 different flavors and products, including 15 flavors in MiO stix and 12 flavors of Nano MiO devices. Apart from the elegance and class, our state-of-the-art vape market research and technology ensure that every puff from a MiO e-cigarette rings just the right bells in the heart of every vapor!
Our motive is to provide the best experiences for both nicotine lovers and for those who don't.
More Than Just an e-cigarette seller
Being a manufacturer, distributor as well as seller, we at MiO are well versed with the exact requirements of all the stakeholders. We make products that resonate with the customers and give huge discounts to our wholesale as well as retail partners. Now the question is – which one would you like to order to satisfy your nicotine cravings (or the fun of dense clouds), to acquire hundreds and thousands of end-customers for your retail store or your distribution channel?
Search Your Favorite Disposable Vape by Product Type.
On our online portal, we offer easy navigation and elastic search options that redirects you to the desired product in a flash. And, if you are a returning customer of MiO, you can also see customized recommendations according to your shopping history. We offer two types of vape devices – MiO Stix disposable e-cigarettes and MiO nano disposable vapes. So, let us help you understand more about them!
1. MiO Stix Disposable Vapes
MiO Stix disposable salt nicotine e-cigarettes are made up of natural extracts from tobacco leaves and designed in a way that each Stix gives satisfaction equivalent to a pack of cigarettes. The 50Mgs of nicotine content will provide you with a smooth throat hit and a pleasant experience. The easy draw activated device is easy to operate with the absence of buttons and other complex mechanisms. The ultra-compact design is easy to hold and looks elegant while resting in your pocket without being noticed by anyone, and you get to choose from 15 different flavors!
Features
280 MAH battery
E-Liquid capacity of 1.2ML
50 MGs of Nicotine content
Life up to 300 puffs
Easy to use and zero maintenance
2. MiO Nano disposable vapes
Compared to MiO Stix, these e-cigarettes are smaller but as effective as the former. The exquisite and compact devices are easy to hold and easy to keep in your pockets as well. However, we are not compromising with the liquid capacity. This small device is packed up with an e-liquid capacity of 1.2 ML. It comes with 5% nicotine that means you can enjoy more than 300 puffs and overall 50 MGs of nicotine in this device, making it approximately equal to one pack of cigarettes. It comes with 240 MAH inbuilt battery capacity. You can enjoy the smooth throat hit about 250 times.
Features
240 MAH battery
E-Liquid capacity of 1.2ML
50 MGs of Nicotine content
Life up to 250 puffs
Easy to use and zero maintenance
Ultra-compact and elegant look
Search By Flavors
We know it's not easy for new customers to remember the name of each and every product (even though forgetting our brand name is very difficult). Still, no one has ever gotten over the unforgettable experience our flavors embed on his/her taste buds! As per our customer's feedback and our data analysis over the years, MiO disposable vapes are now available in 27 different and exciting flavors. To find out your favorite nicotine flavor, all you need to do is – Ask! How? Well, just type your preference in the search bar, and we will show you the most relevant products even if you are looking for exclusive flavors like mango, peach, icy, lychee, etc. The following are some of the most preferred flavors of our customers and our recommendations!
Ice/Watermelon/Blueberry/Peach
When the scorching sun is on, how would it feel if you get an ice-cold vape? As you start vaping, you will feel the reduction in the temperature with ice flowing down your veins while your mouth celebrates the festival of taste with attendees like mint, raspberry, peach, and many more flavors.
MiO Nano Icy Blue Razz 50MG.
If you want to get a break from the summer heat, this product is for you. This device comes with a winter burst of strawberry ice and a tangy taste of blueberry and raspberry. With its original price at $8.99, you can get it for $7.49 if you order now! Adding to this, you can get a 20% discount on your first order.
We have other icy flavored products:
The refreshing mint, menthol, and peach is a perfect combo for your taste buds. You need to pay only $6.49 to experience this.
Ripe bananas essence with menthol flavor gives you the best experience while vaping. It cost you just $6.49 only.
Who doesn't like watermelon, that too on hot and humid days? So, if you want your taste buds to feel the tingle and crave the juicy watermelon, MiO Stix Icy Watermelon is the one for you. With the coolness of the watermelon, this icy drop taste of this disposable vape pen will cost you just $6.49.
With the cost of just $6.49, you can enjoy the tangy taste of blueberry and raspberry with the right content of icy touch!
Nicotine free – MiO Stix Limón Cola.
Since our focus is on catering to your needs, we made yet another progress by introducing nicotine-free disposable vapes.
Even to our surprise, the tobacco-free MiO Stix Limon Cola is one of our best selling products, loved and admired by our end customers, consequently, hundreds of retail stores across the globe. The best part – it satisfies the nicotine craving without the nicotine content! The disposable vape comes with 1.2ML liquid capacity and lasts up to 300 puffs, which are equivalent to 20 cigarettes. Instead of carrying two cigarette packs, you can carry this sleek designed, pen-like e-cigarette. It comes with the tangy citrus taste of lemon, cola, and the coolness of ice. If you like the taste of your favorite cola and juicy lemon flavor, you can buy this with no doubt.
For nicotine lovers, we have other products on the top-selling list. Let us look at two bestsellers from this category. The price of these products is $7.49 each.
Filter by price? Not Really!
Save the money by filtering your favorite e-cigarettes and sorting our products from low to high or high to low. As an encouragement to you to try multiple flavors before you stick to one, all MiO Vapor e-cigarettes are on super-sale, and you can choose within the price range of $6.49 t0 $7.49 only.
This price gets better for the retailers and even better for distributors, and if you are one, contact us today to get the best quote!
So, while you select the best flavor, price shouldn't stop you from doing that. And therefore, all of our devices come within 200-280 MAH battery power and last for about 200 to 400 puffs. Zero maintenance, effortless vaping experience, unbelievable flavors, and huge discounts – if that is what you are after, well, try any (we would recommend every) taste from MiO Vapor and whichever you pick, you will say," IT IS MINE."MiO