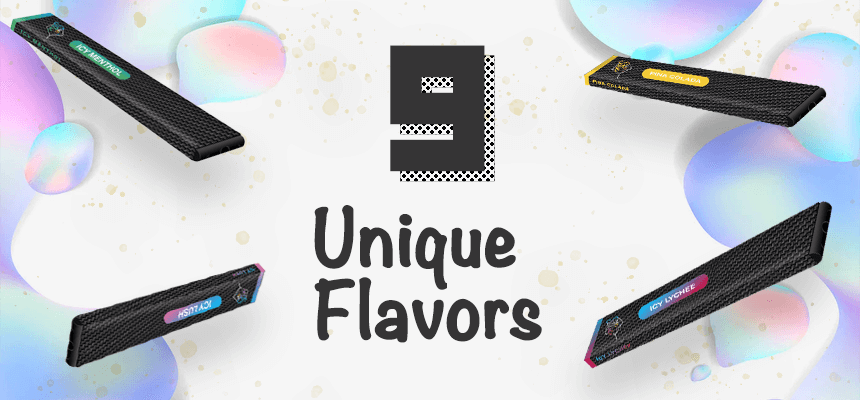 Nine Unique Flavor Disposable Vape stix by MiO Vapor
MiO Disposable Vape Stix is rapidly getting popular in the Vaping Industry. These products are smooth, stylish and easy to handle. MiO Vape Stix comes in nine unique flavors. All our disposable Vape Stix delivers at least 300 + puffs and includes a great flavor. You can take these vape stix everywhere with you because they're extremely discreet! This Vape Stix is so popular now that convenient disposable vape stix are available at a reasonable price. This list of Nine Unique Flavor Disposable MiO Vapor was after lab testing. Just choose the one that has nicotine strength you're looking for and the flavors you're most interested in trying!
Experience premium nicotine salt with exciting flavors that will quench your thirst for nicotine and leave you wanting for more. No hassle of filling e-juices or recharging your device, again and again, just vape on!
In this blog, we guide you through "Nine Unique Flavor Disposable Vape stix" by MiO Vapor
MiO Stix Strawberry Milk
MiO Stix Strawberry Milk is very light and portable. A fine hint of strawberry milkshake in a refreshing flavor just to enhance your vaping experience. The MiO Stix Strawberry Milk will cool you down from the summer heat. It's a disposable device that is compact, portable and lightweight. Strawberry milk stix requires no maintenance, refilling or charging. Once it has been used, just throw it away. The MiO Stix comes with a built-in battery that is fully charged and filled with 1.2 ml of 50mg Salt nicotine –approximately equivalent to 20 cigarettes. This makes your life perfect and styles. MiO Stix Strawberry Milk is an incredible blend with three ingredients such as Strawberries, Cream, and Fresh milk. No worries, even if you are lactose intolerant now you can finally experience the taste of fresh milk, without any allergies of course!
MiO Stix Pina Colada
MiO Stix Pina Colada is very portable and each comes with 1.2ml of 5% nicotine salt e-liquid. It's very famous all over the world, It is non- rechargeable & non- refillable. These products are available in three delicious flavor profiles (Rum, Pineapple, Coconut milk) and can deliver up to 300+ puffs per unit, this will give you a perfect throat hit, we all crave. Get nicotine satisfaction without the nasty taste of burning tobacco.
MiO Stix Limon Cola
MiO Stix Limon Cola is a customizable vape stix that gives you 0mg nicotine level. Its liquid capacity is 1.2ml and is good for at least 300+ puffs. The total number depends heavily on how long you inhale each puff. These are nic salt formulas, and quite smooth and delicious. The Limon Cola provides an excellent experience, with a tight draw and bright flavors. With a 280mAh, each compact MiO Stix disposable vape delivers plenty of vaping enjoyment. It is a perfect option for beginning vapers looking for a vape stix.
MiO Stix Icy Menthol
This is all you need to start vaping today. The MiO Stix Icy Menthol is a disposable vape; this contains 1.2ml of 5% nicotine salt e-juice. It utilizes an internal battery good for up to 300+ puffs, which is equal to about 20 cigarettes. It comes in black and sky blue colors. Icy Menthol is a stand out flavor. No buttons to push and nothing to refill, this all in one, craving crushing vape stix is sure to satisfy both beginners and vaping veterans alike. Grab one today!
MiO Stix Icy Lychee
Each disposable stix has 1.2ml of e-liquid inside and the nicotine concentration is 5%. For fans of cool mint, there is a lychee menthol flavor that blends complex lychee notes and icy chill perfectly. The MiO disposable vape stix features an attractive and ergonomic design, which is easy and comfortable to hold. Nicotine salt vape devices are excellent alternatives to traditional cigarettes and you will get a smooth throat hit with perfect nicotine content.
MiO Stix Icy Lush
MiO Stix Icy Lush is one of the best options on the market. The lightness of the classic lush flavor offsets the quite sweet profile without getting too blossomy. Each MiO Stix Icy Lush contains 1.2ml of nic salt e-juice with the strength of 50mg depending on how deeply you inhale. This small and sleek disposable vape is extremely comfortable to use. This not only soothes your taste buds but also satisfies the nicotine cravings without those harmful health hazards of smoking.
MiO Stix Cuban Tobacco
When it comes to great flavors MiO Stix Cuban Tobacco is hard to beat. Each MiO Stix Cuban Tobacco contains 1.2ml of nic salt e-juice with a strength of 50mg depending on how deeply you inhale. The MiO Stix Cuban Tobacco disposable vape stix offers an authentic taste of Cuban tobacco with a hint of honey and the benefit of creamy caramel in an easy to use and disposable vape device. Grab one today and enjoy a high-quality flavor and satisfying vape at the lowest prices online.
MiO Stix Blue Slushy
MiO Stix Blue Slushy is a great option who loves blueberry, raspberry, and pomegranate flavors. The sweetness is present in it, but tart notes make sure that it is never too cloying. And the basic blueberry flavor just tastes good. If you are a fan of slushy, then MiO Stix Blue Slushy Disposable Vape is a perfect choice. The MiO Stix comes with an inbuilt battery and a pre-loaded 1.2 ml pod system that lasts an entire day.
Final Words on the Best Disposable Vape Stix in 2019
The MiO disposable vape stix is a stylish device with an extraordinary selection of flavors and a perfect nicotine strength. Deciding which disposable stix suits your needs can be complicated.
MiO disposable vape stix don't have a fixed price and it all depends on the manufacturer, you get the best price from around $5 to $20. However, most manufacturers offer a bulk option where the price of each unit comes at a great discount. We don't recommend purchasing MiO disposable vape stix cheaper than $5 since these clearly won't meet expectations. Available in single as well as bulk packs, MiO disposable stix is 100% original, brand new to vape, check out other mouth-watering flavors from MiO vapors.
Shop with MiO vapor online, if you need help in making a choice, please feel free to contact us and we will be happy to help you! We are excited to have the opportunity to be your one-stop-shop for all your vaping needs. For more information, visit our website https://MiOvapor.com/